| | |
| --- | --- |
| Time | Session |
| 10.30am – 10.40am | Introduction |
| 10.40am – 11.10am | Making soap and labels |
| 11.10am – 11.20am | Invisible beaker show |
| 11.20am – 11.35am | Screaming Jelly babies |
| 11.35am – 11.40am | Methane bubbles |
| 11.40am – 12.10pm | Making lava lamps |
| 12.10am – 12.20am | Methane bubbles |
British Science Week – Primary school visit – 10.30am – 12.30pm
30 pupils (Year 3/4) from St Josephs Primary School visited PMGHS for British Science Week for a demo day.
Please click here to view the video for the methane bubbles activity.
Year 8s enjoyed taking part in the Catapult Challenge, they were really creative & designed some outstanding catapults. This activity had links to STEM – engineering and technology. They used the catapult to see how far their egg could travel without breaking.
Dhuha Halaqa group Science demo show takes place in the Lab.
Today we opened our science lab doors to the grannies of our community to participate in British Science Week. Their overwhelming, heartfelt response broadcasted by the Official Quwwat Halaqah Sisters touched everyone's hearts at PMGHS!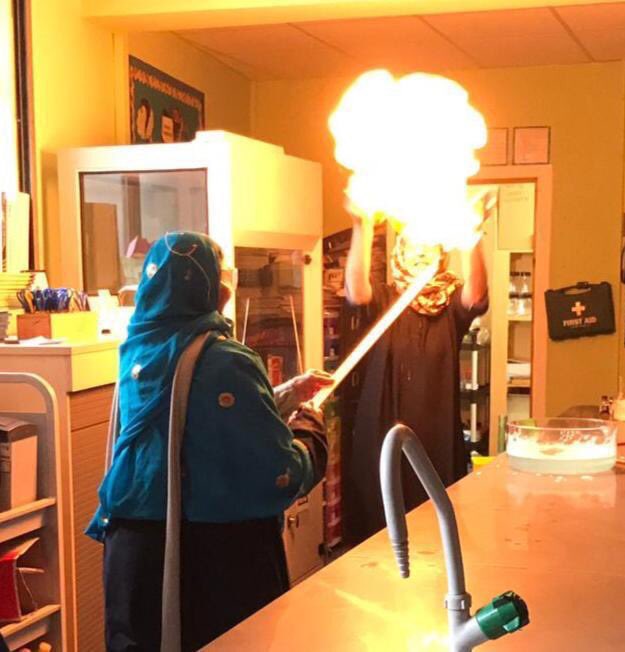 Dragons Den – Year 10 pupils designing and manufacturing soap for British Science Week.
 And the fun and activities continued for British Science Week with 8C class making soap.